5m3 Home CNG Compressor for Car CNG Compressor Filling Station refers to a device that pressurizes natural gas through a compressor to a pressure greater than 10 MPa and not greater than 25 MPa, is stored in a high pressure vessel in a gaseous state, or is used for long-distance transportation of natural gas.
The main use of CNG Filling Compressor in natural gas filling stations
Gas station
The Compact CNG Compressor includes a parent station, a standard station, and a substation. The refueling mother station generally takes gas from the high-pressure pipeline to refuel the CNG cylinder truck, and then delivers the gas to the sub-station through the CNG cylinder truck. At the same time, it has the ability to directly refuel the CNG vehicle; the standard station is generally from the city. The pressure pipe network takes the gas and refills the CNG car; the sub-station uses the CNG gas cylinder car as the air source to refuel the CNG car. The standard station takes gas from the medium-pressure pipe network. Because of its relatively large flow rate, it has a large impact on the urban medium-pressure pipe network and affects other users' gas supply. It needs to be comprehensively considered in the selection. More of the sub-master form, in the sub-station type can be divided into regular sub-station and hydraulic sub-station.
A CNG car is a car that uses compressed natural gas instead of conventional gasoline or diesel as a fuel for automobiles. The regions with natural gas pipelines at home and abroad are mainly developing CNG vehicles.
CNG automobile means that natural gas mainly composed of methane is stored in a cylinder similar to a fuel tank in a car at a pressure of about 25 MPa, and is used as an automobile fuel. The main process is to reduce the 0.3~0.8MPa low-pressure natural gas at the CNG bus station, and then boost it to 25MPa through the natural gas compressor. It is controlled by the sequential control panel and stored in the high, medium and low pressure sequence to the gas storage cylinder group, and then the CNG dispenser. Fill the car cylinder. The high-pressure gas of the automobile cylinder is decompressed by the decompression device, and then the gas is supplied to the engine through the gas mixture
here is 3m3 Home CNG Compressor for Car CNG Compressor Filling Station technical data:here is 3m3 Home CNG Compressor for Car CNG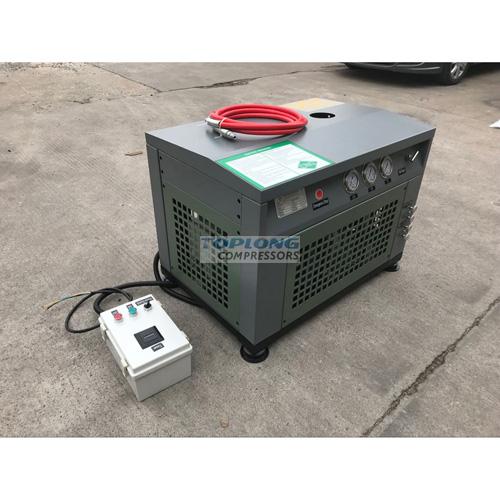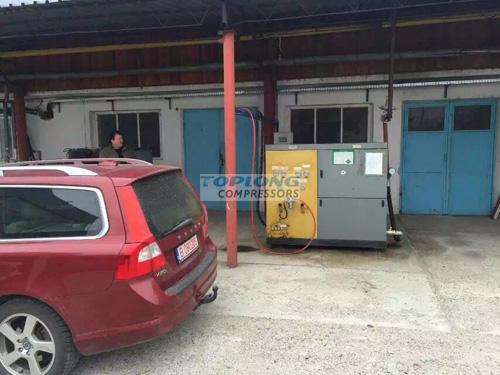 Compressor Filling Station technical data:
Model

TP5

Flow rate

5.5 Nm3/h 3.5 cfm

Filling time

2.2 hour for 60L tank(200bar 3000psi)
2.7 hour for 60L tank(250bar 3600psi)

Working pressure

200bar /3000psi or
250bar /3600psi

Inlet pressure

Less than 0.3bar 4.5psi

Motor power

EX 3.0kw/4.0hp
50/60hz, three phase

Oil separator / oil filter

1/1

Safety valve/ Alarm sensor

1 in final/ option

Time meter

1

Switch

auto stop

Filling hose connect

1

Dimensions
(H-W-D)

600-900-650 mm

Weight( Net)

170kg

Weight( Gross)

190kg

Noise level

50 db(A)