oxygen high pressure compressor supplier parameters:
1. Principle: Oil-free reciprocating piston
2. Cooling type: air or water cooling
3. Power consumption: ≤55kw
4. Speed: 300-560rpm
5. Flow rate: ≤800Nm3/h
6. Inspiratory pressure: 0-0.5Mpa
7. Exhaust pressure: ≤30Mpa
8. Compression level: 1-4
Main features of scuba oxygen compressor high pressure products:
All oil-free lubrication is clean and non-polluting.
High efficiency and low energy consumption.
High reliability, continuous operation for 24 hours.
The unit is air-cooled or water-cooled to reduce installation costs.
Compact structure, low operating and maintenance costs.
cylinder bottle filling oxygen compressor parameters: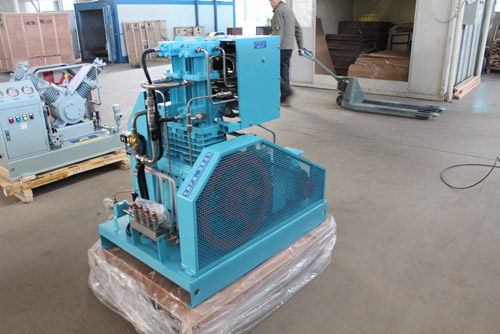 high pressure diving oxygen compressor
ADVANTAGE:
1.TOTALLY 100% OIL FREE,NO NEED OIL
2.SUITABLE FOR OXYGEN,HYDROGEN,NITROGEN,HELIUM,ARGON,CNG AND SPECIAL GAS
3.NO POLLUTION ,KEEP SAME PURITY TO INLET GAS
4.RELIABLE AND TOP QUALITY,COMPARABLE WITH USA RIX BRAND.
5.TOP COST PERFORMANCE,LOW MAINTENANCE COST AND EASY TO BE OPERATIONAL, ONLY NEED TO BE CHANGE PISTON RING
6.4000 HOURS PISTON RING WORKING LIFE,1500-200O HOURS WORKING LIFE FOR FINAL STAGE RING
7.TOP BRAND MOTOR,AND CAN BE SPECIAL POINTED ,LIKE SIMENSE BRAND
8.SUPPLY JAPAN MARKET,QUALITY APPROVAL BY JAPAN STRICKLY SYSTEM
| | |
| --- | --- |
| Model | GOW-5/4-150 |
| Power(Hp,Kw) | 3KW |
| Working Pressure(Bar,Psi) | 150,2160 |
| Air Delivery(L/min,CFM) | 5 Nm3/Hr |
| Inlet pressure ,outlet pressure | 0.3-0.4Mpa, 10Mpa/15Mpa/20Mpa/23Mpa/30Mpa |
| Speed(r.p.m) | 200-400 |
| pressure stage | 4 |
| Net Weight(Kgs) | 300 |
| Cooling way | Air cooling |
Kinly note ,if you have reciprocating pure oxygen compressor filling bottle cylinder inquiry please tell us follows information when you send inquiry:
*Compressor working medium:
If single gas ,how many purity ? if mixed gas , what's gas content lit ?
*Suction pressure(gauge pressure): barg
*Exhaust pressure(gauge pressure): barg
*Flow rate per hour for compressor: (Nm3/hr):
Compressor gas suction temperature ?
Compressor working hours per day : hours
Compressor working site altitude : m
Environment temperature ℃:
low three phase voltage and frequency :