oil free high pressure oxygen compressor manufacturers parameters:
1. Principle: Oil-free reciprocating piston
2. Cooling type: air or water cooling
3. Power consumption: ≤55kw
4. Speed: 300-560rpm
5. Flow rate: ≤800Nm3/h
6. Inspiratory pressure: 0-0.5Mpa
7. Exhaust pressure: ≤30Mpa
8. Compression level: 1-4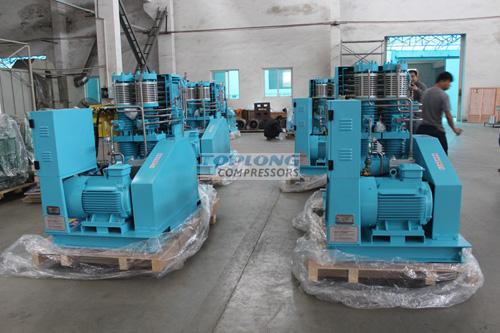 Main features of medical oxygen compressor high pressure manufacturers products:
All oil-free lubrication is clean and non-polluting.
High efficiency and low energy consumption.
High reliability, continuous operation for 24 hours.
The unit is air-cooled or water-cooled to reduce installation costs.
Compact structure, low operating and maintenance costs.
medical oil free high pressure oxygen compressor manufacturersparameters:
Model
GOW-20/4-150
Power(Hp,Kw)
11KW
Working Pressure(Bar,Psi)
150

,

2160

Air Delivery(L/min,CFM)
20 Nm3/Hr
Inlet pressure ,outlet pressure
0.3-0.4Mpa, 10Mpa/15Mpa/20Mpa/23Mpa/30Mpa
Speed(r.p.m)
200-400
pressure stage
4
Net Weight(Kgs)
1000
Cooling way
air cooling
Kinly note ,if you have oil free high pressure medical oxygen compressor manufacturers inquiry please tell us follows information when you send inquiry:
*Compressor working medium:
If single gas ,how many purity ? if mixed gas , what's gas content lit ?
*Suction pressure(gauge pressure): barg
*Exhaust pressure(gauge pressure): barg
*Flow rate per hour for compressor: (Nm3/hr):
Compressor gas suction temperature ?
Compressor working hours per day : hours
Compressor working site altitude : m
Environment temperature ℃:
low three phase voltage and frequency :