The 250kw 3Mpa-4Mpa two-stage compression screw type air compressor has the characteristics
of small vibration, low noise, less leakage, high efficiency and large gas output of the same power.
The secondary medium-pressure micro-oil-lubricated screw compressors produced by our company have been widely used in industrial production and military and defense facilities.
series medium pressure micro oil screw compressor technical parameters

Micro oil lubricated bottle blowing screw air compressor has follows Features
1. No seal design, the host never leak
Our unique patented technology, the host does not have mechanical seals nor a rubber seal, the complete elimination of leakage sealing produced a host so that the host never leak.
2. The power consumption province, the same power than conventional gas production more than 15% larger compressor

Our air compressor can provide you with saving more than 15 percent, to CMN37G air compressor 24 hours a day, 350 days per year according to the calculation, electricity savings for your company to 46,620 degrees, one degree by one dollar per year for you save electricity 46,620 yuan.
3. Low oil content, very little oil content of compressed air
Our outstanding technical superiority, the volumetric efficiency of up to 95% lower fuel injection quantity can be used to achieve the sealing effect, coupled with the unique design of the gas separation barrel, oil core processing burden is very light, very small amount of oil the air,
sub-core long-life oil.
The high-temperature, continuous operation
Since the volumetric efficiency of our company hosts up to 95%, meaning that only 5% of the gas leak, so the loss is small, that is, the amount of heat the unit rarely run under ambient temperature around 80 ℃.
5. Simple design structure
Secondary host a series of simple structure, less power loss and high efficiency. The whole volume occupied by small, easy to install, simple maintenance.
6. Our company master the core technology
Exhaust pressure from 0.4MPa --- 4.0MPa, displacement from: 1 cubic --- 42 cubic meters. High pressure air compressor screw air compressor known as the Pearl of the field, our company is the only one capable of producing more pressure 4.0MPa pressure screw air compressor manufacturer, is currently successfully developed two-stage compression screw compressor pressure up to 100 kg, filling gaps in worldwide high-pressure single-screw compressor.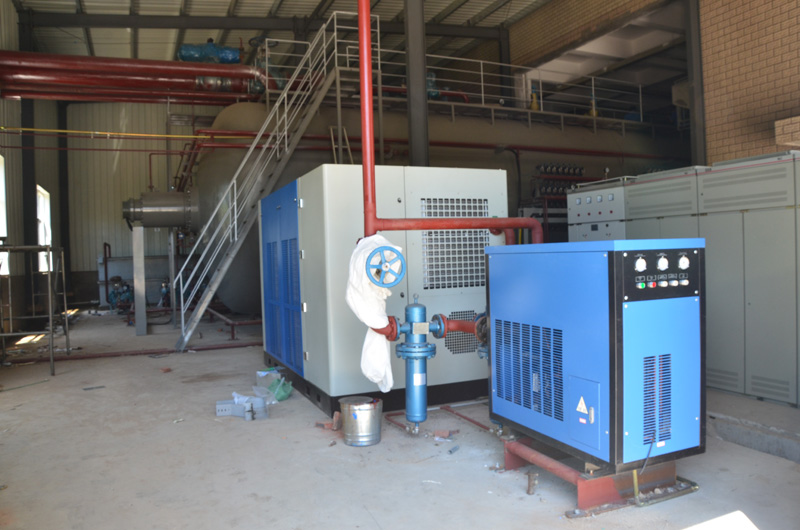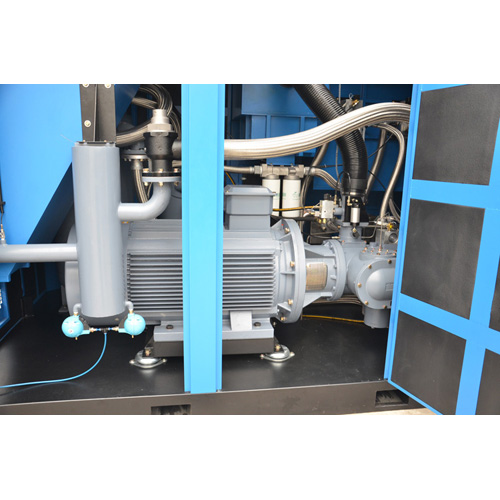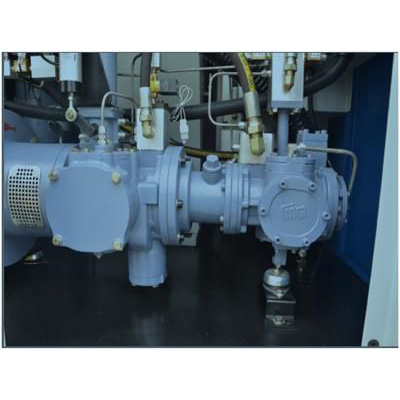 SCREW AIR COMPRESSOR

250G-4.0Mpa

PRESSURE

4.0

Mpa

CAPACITY

22.8

m3/min (Permanent magnet frequency conversion)kW (frequency variety ,40%-100%)

RATE POWER

250

kW (frequency variety )

DRIVEN WAY

TWO STAGE DIRECT DRIVEN

(COUPLER DRIVEN)

COOLING WAY

AIR COOLING

OUTLET TMEP

≤ENVIROMENTAL+15

℃

NOISE

78

dB(A)

OIL CONTENT

≤2

PPM

DIMENSION

2400×1800×2000

L×W×H(mm)

WEIGHT

7200

Kg

VOLTAGE

3/380/50

PH/V/HZ

START WAY

Permanent magnet frequency conversion

IP CLASEE

IP54

F CLASS