PRPDECTS DETAILS
Product Introduction
Container type nitrogen generators are suitable for petroleum industry, nature gas industry, chemical industry and other relative industries, which have outstanding features of strong adaptability, flexible mobility, etc.
Vehicle-mounted mobile nitrogen generators can be applied in exploitation, purging, replacement, emergency rescue working, attenuation of flammable gas or liquid, etc. in petroleum and nature gas industry. There are low pressure, medium pressure and high pressure series of the nitrogen systems.
Container is the core place of intelligent system engineering, where are equipped with production devices, monitoring devices, control devices, etc. According to customer requirements, the container design is divided into following several parts:
1) Nitrogen generation system
2) Nitrogen booster system
3) Fire extinguishing system
4) Lighting system
5) Ventilation system
6) Pipeline system
7) Power distribution system with generator sets
8) Alarm system
9) Automatic integrated system
Main Features
1) Container type makes convenient installation, operation, lifting and transportation.
2) Design strictly according to customer on-site working conditions.
3) Operate automatically, and DCS control can be supplied.
4) Both electric drive and generator drive can be used, convenient for field operations.
5) Professional solutions can be supplied for other special requirements from customers.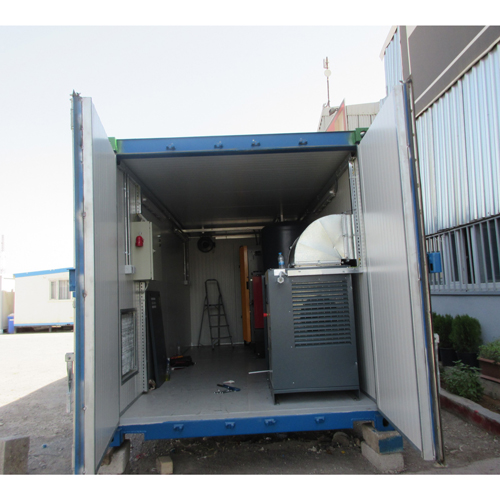 Technical Parameters
Q: How long is your delivery time?
A: Generally it is 10-50 working days depending on your order.
Q: How to get a prompt quotation?
A: When you send us inquiry, please kindly tell us the below technical information.
1) Nitrogen Flow rate: ____Nm3/h
2) N2 Purity: ____%
3) N2 Discharge pressure: ____Bar
4) Voltages and Frequency: _____V/PH/HZ
5) Application or use for which industry.
Q: What's the order process?
A:
1) Inquiry---provide us all clear requirements.
2) Quotation---official quotation form with all clear specifications.
3) Contract confirmation---provide correct contract details.
4) Payment terms--- T/T 30% in advanced, balanced before shipment.
5) Production---mass production g. Shipping--- by sea, air or courier. Detailed picture of package will be provided.
6) Installation and commissioning.