filling oxygen diaphragm compressor, is a reciprocating compressor that reciprocates in a cylinder to compress and transport gas.
The diaphragm compressor is a special type of volumetric compressor with large compression ratio, good sealing performance, and the compressed gas is not polluted by lubricating oil and other solid impurities. Therefore, it is suitable for compressing high purity, rare and precious, flammable, explosive, toxic and harmful, corrosive and high pressure gases.
oxygen diaphragm compressor booster for cylinder filling, are one of many types of compressors. It has a special name because it has a special diaphragm that separates the compressed medium from the outside. The diaphragm compressor can also be referred to simply as a membrane compressor. Due to its special structure, the diaphragm compressor does not need lubrication, and the sealing performance is very good. The compressed medium is not in contact with any slip agent, so it can compress the gas with very high purity, generally achieving a purity of 99.999%, which is more suitable for compression. And transport all kinds of precious rare gases. In addition, for corrosive, radioactive, toxic, and explosive gases, diaphragm compressors are also particularly suitable. The diaphragm compressor has good heat dissipation and can adopt a high compression ratio, so its pressure range is wide, and the exhaust pressure can be up to 500MPa. It is used in the food industry, petroleum industry chemical industry, electronics industry, nuclear power plant, aerospace, military equipment, medicine, scientific research and other fields.
G1 oxygen diaphragm compressor for cylinder filling|nitrogen compressor|is a non-standard compressor product, G1 diaphragm compressor is divided into single cylinder GZ1 and double cylinder GL1 and GD1 diaphragm compressor, G1 diaphragm compressor piston force 0.7TON, Customized according to different customer parameters, requirements and environment!
GZ diaphragm compressor is composed of cylinder block, cylinder head, crankshaft connecting rod, diaphragm, oil circuit, gas path, water cooling system and motor drive. The G1 and G2 diaphragm compressor series products are available from our company. Cooling method: air cooling and water cooling.
Company product features
Ø Advanced oil-free disc cylinder component structure reduces the difficulty of assembly process; reduces sealing surface; alarm when leakage medium leaks, improves the reliability of the whole machine.
Ø The oil consumption of the whole machine hydraulic oil is small, which is 1/2 of the oil used in the traditional diaphragm compressor. The economic advantage is very obvious for the oxygen compressor.
Ø New membrane cavity curve, Kezan
Nie or HOERBIGER's air valve,
Leading diaphragm surface treatment technology
Improves the work of the compressor
Efficiency, achieving high energy efficiency,
Moreover, the life of the vulnerable piece diaphragm and the air valve is improved. Diaphragm and air valve have a guaranteed average life of 5000
Hours and 8,000 hours or more.
Ø Full-featured built-in oil supply and pressure regulation system for compressor lubrication and oil
Cylinder work provides pressure stable, clean quality lubricants and oils
The road system does not leak, completely different from the traditional diaphragm compressor oil system.
It belongs to our company's patented technology.
Ø User-friendly instrument interface and middle window, simple oil and gas pipeline.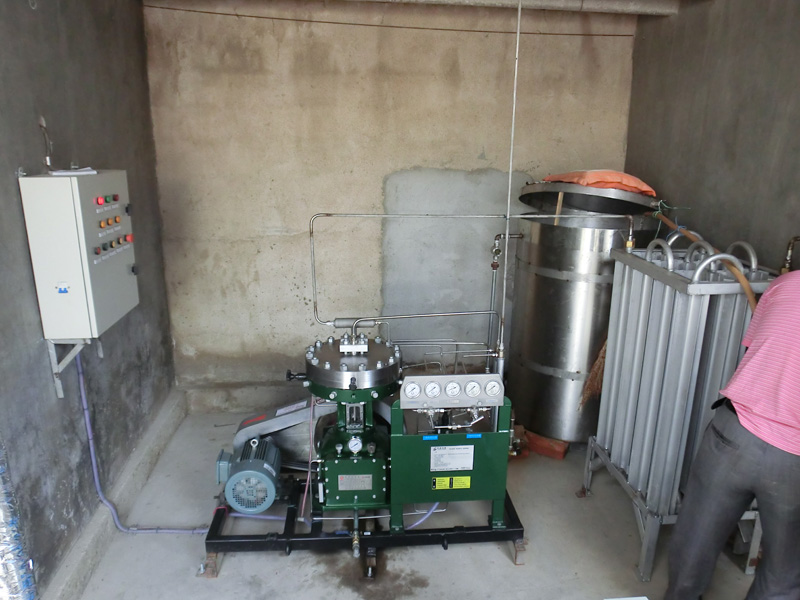 G1 type oxygen booster for cylinder filling diaphragm compressor technical data as follows
Characteristics of G1 series diaphragm compressor
Small diaphragm compressor:
Structure form: Z, L type
Lubrication method: splash lubrication
Replenishment method: forced replenishment
Cooling method: water or air cooling
Repair single piece maximum weight: 70-80kg
Maximum space for maintenance: no less than 1 meter around
Model
Flow Rate Nm3/hr
Suction Pressure .Mpa
Discharge pressure.Mpa
Water Consumption L/hr
Speed .rpm
Motor.KW

Dimension L

*

W

*

H mm

Weight kgs
GD0-3/200
3
atmosphere
20
300
750
2.2

600

×

500

×

400

200
GL1-5/200
5
atmosphere
20
300
450
3

1350

×

600

×

950

550
GL1-10/13
10
atmosphere
1.3
300
450
3

1350

×

600

×

950

550
GL1-10/13-200
10
1.3
20
300
450
3

1350

×

600

×

950

550
GL1-5/1-160
5
0.1
16
400
450
3

1350

×

600

×

950

550
GL1-10/4-160
10
0.4
16
400
400
4

1350

×

600

×

950

520
GL1-8/2.5-160
8
0.25
16
400
400
3

1350

×

600

×

950

520
GL1-10/7-150
10
0.7
15
300
400
4

1350

×

600

×

950

520
GL1-5/6-200
5
0.6
20
400
400
3

1350

×

600

×

950

520
GL1-10/6-160
10
0.6
16
400
400
4

1350

×

600

×

950

500
GL1-5/13-400
5
1.3
40
300
400
3

1350

×

600

×

950

520
GL1-15/10-150
15
1
15
400
400
4

1350

×

600

×

950

520
GL1-10/7-320
10
0.7
32
400
450
4

1350

×

600

×

950

520
GL1-5/4-350
5
0.4
35
300
400
3

1350

×

600

×

950

450
GZ1-5/13
5
atmosphere
1.3
200
400
1.5

1100

×

600

×

950

420
GZ1-5/13-200
5
1.3
20
200
450
1.5

1100

×

600

×

950

400
GZ1-5/30-400
5
3
40
300
400
3

1100

×

600

×

950

420
GZ1-70/30-35
70
3
35
200
400
4

1100

×

600

×

950

420