25Mpa high pressure cng compressor for bottle filling:
The main equipment of the cng compressor 25mpa for bottle filling is composed of a compressor unit, a metering device, a gas purifying and drying device, a gas storage device, a charging sequence control plate, a gas filling column, and a gas selling machine. According to the different functions, it can be divided into three types: standard station, gas station and gas station. The standard station directly takes gas from the gas pipeline network. After a series of processes such as pretreatment system, compression and storage, it sells gas. Machine to refuel the car
In addition to the function of the standard station, the CNG refueling station also charges the compressed natural gas into the high-pressure gas transport semi-trailer (semi-trailer) through the air-filling column located in the station, and transports it to the refueling sub-station to refuel the car. At the same time, as an effective supplement to pipeline gas transmission, in small and medium-sized cities far from the natural gas pipeline, semi-trailer can be used to transport compressed natural gas to the city by road transportation, after pressure-adjusting into the gas pipeline network, to residents and others. Gas users supply gas.
The CNG refueling station receives the compressed natural gas from the refueling mother station in the place where the natural gas pipeline network has not arrived, and refills the vehicle through the gas-selling machine through the process of storage and compression.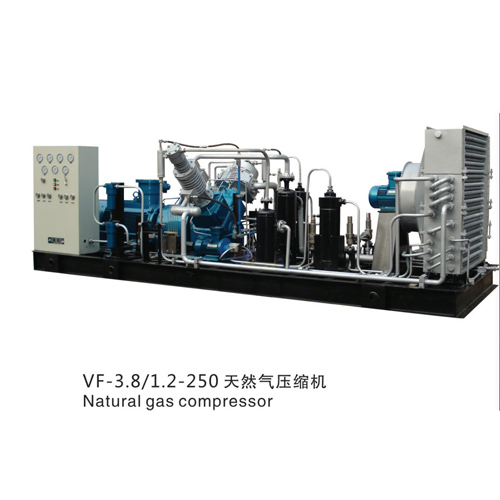 Structure introduction
25Mpa bottle filling cng compressor is a reciprocating piston type. It can be divided into two types: basic and non-basic. The whole machine is mainly composed of fixed part and moving part. The fixed part is composed of a fuselage, a middle body, a cylinder head, a cylinder, a cylinder block and the like. The moving part is composed of a crankshaft, a connecting rod, a crosshead, a piston, a gas valve and the like, and is equipped with a pipe and an instrument operating system. The system compressor is equipped with a purification device that can provide users with purified high-pressure natural gas. The equipment can be made into a bare-mounted, skid-mounted or soundproofed cabin.
Compressor performance description
The company's introduction of Austrian LMF company, Germany Mannesmann Demag technology, product reliability. The wearing parts such as gas valve and piston ring are made by Austrian HOERBIGER products and have a service life of more than 8000 hours.
Soft start allows the compressor to start and stop frequently. Wide range of air intake, wide range of adaptation.
The overall armor structure, low noise, easy installation in the city, saving investment.
Siemens PLC control system, high degree of automation.
Air cooling and water cooling can be selected.
Gas filling station compressor features:
1. Import range: 3.0~20.0MPa
2. Processing capacity 400Nm@/h~2200Nm@/h
3, the basic components are introduced to Germany Demag V series production license manufacturing
4, using the first domestic segmented air intake design technology
5, full air cooling structure
6, neatly armored, with soundproof casing, noise 75@bd (A)
7, fully automatic intelligent control, can achieve unattended
25Mpa high pressure cng compressor for bottle filling compressor technical data as follows
S/N
Compressor model
Suction pressure
Discharge pressure
Compressor flow rate
Motor power
memo
(Mpa)
(Mpa)
(Nm.h)
(kw)
38
W-1.1/(12-16)-250
1 .2-1.6
25
858-1530
160
39
VF-2/(10 -16) — 250
1.0-1.6
25
1320-2000
280
40
WF-2/1 6-250
1 .6
25
2000
280
41
V-2/(16-20)-250
1.6-2.0
25
2000-2500
315
42
W-1.43/20-210
2
25
1460-1800
200
43
V-0.7/22-210
2.2
25
960
132
44
W-1.0/(16-25)-250
1.6-2.5
25
1020-1800
185
45
W-1.05/40-250
4
25
2580
250
46
VF-1/(25-40)-250
2.5-4.0
25
1560-2460
220-8
47
VF-3.2/0-5)-250
0.3-0.5
25
768-1152
220
48
V-1.8/(18-23)-210
1.8-2.3
25
2050-2590
280
49
VF-2.5/3-210
0.3
21
600
132
50
W-1.6/16-250
1.6
25
1632
185
51
WF-2/(12-16)-250
1.2-1.6
25
1560-2040
250
52
WF-2/12-210
1.2
21
1 560
220
53
WF-0.37/(105-120)-210
10.5-12
21
2350-2686
75
54
W-1.6/(7-1 2)-210
0.7-1.2
21
768-1248
1 10
55
W-1.43/20-250
2
25
1802
220
56
W-1.1/(10-16)-250
1.0-1.6
25
726-1122
160
57
W-4/3-250
0.3
25
960
200
58
W-3.6/1-250
0.1
25
432
1 10
59
W-4.75/1 -250
0.1
25
570
132
60
W-3.6/3-250
0.3
25
864
185
61
W-5.6/0.5-250
0.05
25
504
160
62
W-7.5/2-250
0.2
25
1300
280
63
VF-0.1 1/(70-200)-250
7月20日
25
468-1326
30
64
VF-2.5/(0.8-1.6)-250
0.08-0.16
25
270-390
90
65
VF-2/(2-3)-250
0.2-0.3
25
360-480
1 10
66
VF-1,1/(5-6)-250
0.5-0.6
25
396-462
90
67
VF-0.54/30-250
3
25
1004
1 10
68
VF-0.8/30-250
3
25
1488
160
69
VF-0.28/(40-80)-250
4.0-8.0
25
688-1360
90
70
VFD-0.1 1/(20-200)-250
2.0-20
25
300
30
Soundproof cabin
71
VFD-0.12/(20-200)-250
2.0-20
25
400
30
Soundproof cabin
72
VFD-0.15/(20-200)-250
2.0-20
25
500
45
Soundproof cabin
73
VFD-0.16/(20-200)-250
2.0-20
25
600
55
Soundproof cabin
74
VFD-0.28/(20-200)-250
2.0-20
25
525-1430
75
Soundproof cabin
75
VFD-0.32/(20-200)-250
2.0-20
25
600-1700
90
Soundproof cabin
76
VFD-0.36/(20-200)-250
2.0-20
25
680-2210
1 10
Soundproof cabin