High pressure diesel engine air compressor
SF-10/250 compressor is mainly used for pipeline pressure test, sweeping line, gas lift and other projects in oil exploitation, and can also be used as a gas source with air volume of 10m3/min and pressure ≤25MPa for other projects in the national economy. The car allows the user to step down the use. The compressor unit is in armored form, consisting of compressor main engine, diesel engine, gas pipeline system, cooling system and control system.
It is composed of a unit and is mounted on the whole body and placed in a metal casing.
The box body is made of a metal cover, the top vent is placed on the top of the cover, the exhaust port of the diesel engine is located outside the cover, and the exhaust muffler of the diesel engine is mounted on the top of the cover. There is a light inside the cover, a lock is arranged on the door, and the front part is set to operate, the first one leads to the unit, and the instrument operation cabinet is installed in the operation room. The lower part of the whole set is equipped with a lifting device, which should have sufficient strength to ensure the frequent lifting and transportation needs. Rust and paint inside and outside. The overall size of the unit is controlled at 7000 × 2200 × 2200 (mm) to meet the road transport conditions of trucks. A check valve is installed at the final outlet of the compressor gas, and the air supply valve port is a two-inch pipe thread.
The complete equipment has complete performance, reliable quality, easy operation and high work efficiency. It is suitable for field and harsh construction environment (waterproof, dustproof and shockproof). It is a mature styling product with reliable control and easy maintenance.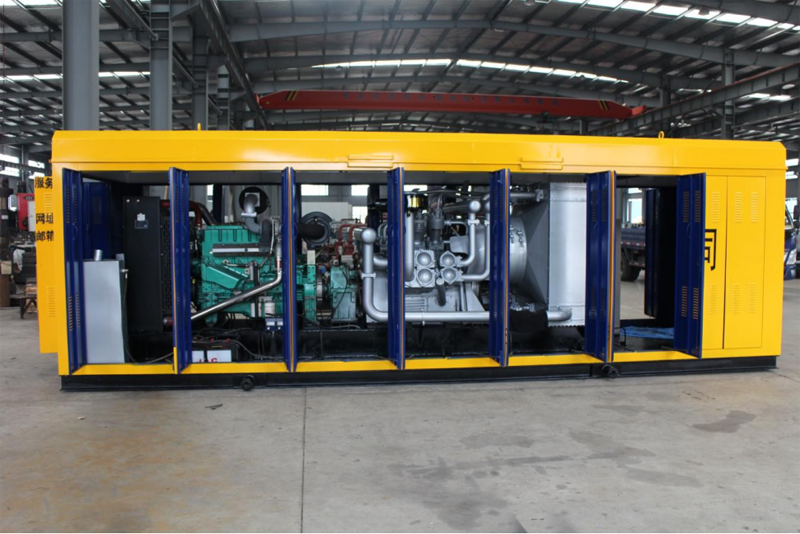 High-pressure diesel driven air compressor equipment main technical parameters
1. Compressed medium: air
2, model: SF-10/250 type
3, type: fan-shaped, air-cooled, four-stage compression, single-acting, reciprocating piston
4, the amount of exhaust: 10m3 / min
5, exhaust pressure (MPa): 25
6, intake air temperature (°C): normal temperature
7, exhaust temperature (°C): ≤200°C
8, piston stroke: 100mm
9, compressor speed: 1330r / min
10, compression series: four levels of compression
11, shaft power: 173.5KW
12. Cylinder diameter mm: Level 1: 260, Level 2: 140, Level 3: 70, Level 4: 35
13, transmission mode: hydraulic clutch reducer and flexible coupling
14. Lubrication method: crankshaft, connecting rod and piston pin: oil pump circulating lubrication
Cylinder, piston: splash lubrication
15, lubricant consumption: 350g / h
16. Lubricating oil pressure: 0.15~0.40MPa
17, lubricating oil temperature: ≤ 70 ° C
18, equipped with diesel engine:
18.1 Model: NTA855-P400 (Chongqing Cummins)
18.2, type: four-stroke, direct-injection water cooling
18.3, intake mode: supercharged, intercooled
18.4, number of cylinders: 6
18.5, cylinder diameter / stroke: 140/152mm
18.6, maximum power / rated speed: 298kW / 1800r / min
18.7, crankshaft steering: counterclockwise (from the flywheel end)
18.8, start mode: electric start DC24V
18.9, governor: mechanical governor
18.10, rated working condition fuel consumption rate: 196+5% g/kW.h
18.11, oil consumption rate: ≤0.12 g/kW.h

18.12, exhaust back pressure: ≤ 5kPa
18.13, diesel engine idle speed: 700~750r/min
18.14. With low temperature starter.
18.15, net weight of diesel engine (kg): about 1350kg
18.16, external dimensions (length × width × height) mm: ~ 1847 × 1130 × 1587
19, equipped with hydraulic deceleration clutch:
19.1, Model: LJ250 (Hangzhou Weihao Clutch Co., Ltd.)
19.2, input power: ≤227Kw
19.3, rated transmission capacity: 0.25Kw / r / min
19.4, rated input speed: 1800r/min
19.5, clutch mode: hydraulic wet multi-plate clutch
19.6. Mechanical efficiency: ≥96c/o
19.7, pick up time: ≤ 8S
19.8, working oil pressure: 1.2-1.6Mpa
19.9, the highest oil temperature: ≤ 80 ° C
19.10, Dimensions: 985 × 670 × 720
20, the overall dimensions of the compressor (including the cover mm): ~ 7000 × 2200 × 2200
21. Compressor weight (kg): ~8500